KARATE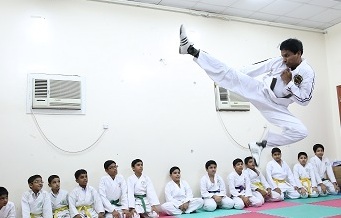 Aim of Karate
Most studies on the long-term effects of martial arts training agree that martial arts are affective in producing positive, social and psychological changes. There is usually an inverse relationship between the amount of time someone has been practicing, and the level of their aggression, hostility and anxiety. The opposite can be said about the independence, self-reliance, and self-confidence of practitioners which tends to increase with the period of time they have been training. Some martial arts lead to psychological benefits more quickly than others. For instance, one study showed that over a short period of time, karate students experienced a decrease in anxiety. This suggests that if the martial art is more foreign and complex, it may take longer to reap the psychological benefits of it.
Some people
are looking for exercise and fitness, others seek a better ability to defend themselves and others simply say, "I've always wanted to study martial arts." Whatever may be the reason, they are entering the world of martial arts and it will enrich their lives.The Ameerians have Mr.Lewis Tito as Shihan.

Thirty years of research on this topic and supported by the anecdotal reports, shows that the martial arts are good for the mind as well as the body.
HONOURING INTERNATIONAL CHAMPIONS
BELT GRADE IN KARATE AND THEIR ACHEIVEMENTS